"The lions walked around while we had breakfast"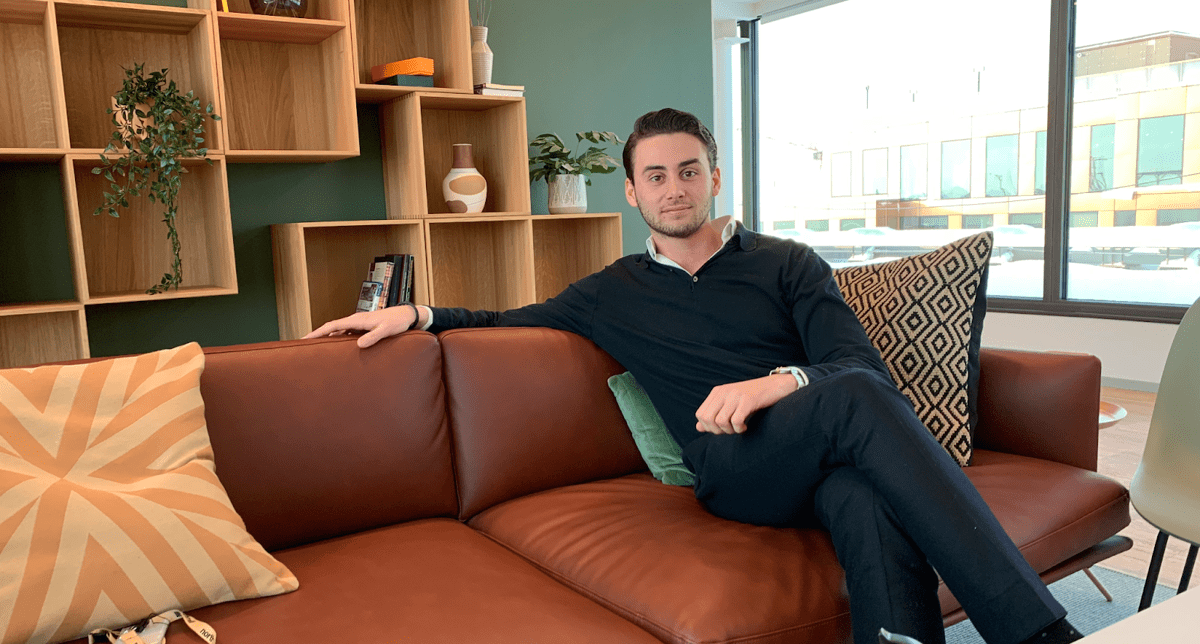 When he goes for a run, everything else disappears. Victor Silbersky would probably not run all the way back to Kenya, but tells us what inspired him over there - as well as talking about his Jewish background and why Northmill is genuine and innovative from a Customer Advisors point of view.
Imagine that you are having breakfast in the middle of nowhere, in the heart of Africa. Regardless if you love animals or not - can you imagine the feeling of seeing the king of the jungle a couple of yards away?
Victor Silbersky doesn't have to imagine. He just looks back at his trip to Kenya five years ago.
- While we were preparing for breakfast, a group of lions walked around a few yards from there. We were just careful not to ruin their ecosystem and the reason is simple. We were the ones visiting them - not the other way around - and that picture stuck in my mind.
Did the trip give you a certain understanding?
- Pretty much so. It's easy to get caught up in our everyday life here, but the trip made me realize that I am a part of so much more than I can imagine. It was amazing.
Sweden is not Kenya, but Sweden is where Victor Silbersky was born in 2000. He took his baby steps in Stockholm and grew up in Täby. Today, he works as a customer advisor at Northmill, which includes informing customers about the star product Reduce.
- My time at Northmill has so far exceeded my expectations. The company has a genuine and digital touch in its identity, not to mention an innovative spirit. I am excited to come to work every day and provide customers with the best service out there.
What makes you stimulated working here?
- The environment as such. It is fun to work here. I've always wanted to wake up in the morning and feel that I want to go to work, which I do. The best feeling is that you make a difference here. We help people save money every month and thereby improve their financial situation.
You actually broke the monthly record for helping the most number of customers to lower their interest. Your thoughts?
- Obviously, it feels fantastic, but I am not satisfied. I use that to my advantage in order to get even more stimulated, to help people reach an even more improved financial situation. Whether the amounts are small or big, it feels great to be able to help people, which we always aim to do in the Sales Department.
As for himself, Victor has played a lot of football and basketball, as well as tennis, hockey, floorball and guitar.
But he has a certain passion.
- I love to run. It makes me relax. To be able to run with some music and clear my mind is extremely satisfying. It's like you let everything go. What's behind you is now behind you, and you can only look forward and take step by step to get there.
Is it hard to turn off the digital part of your life?
- Kind of, and that's why it's nice to take your eyes off the phone and go for a run. Last summer, I wanted to attend the Stockholm Marathon, but it was cancelled due to the pandemic. Hopefully, I can participate this summer.
And speaking of summer - a few years ago, Victor got in touch with his roots on a certain summer camp for Jewish children in Sweden.
- I was 11 or 12 and felt like I found my identity, which made me convert to Judaism at the age of 14. I have Jewish origins on my father's side. His parents are from Malmö, but their grandparents are from Belarus and Poland. I've never been there, but I've been to Israel twice. Victor pauses. - I believe, in general, that you should try to experience all different types of cultures and lifestyles to gain perspective. However, If I could travel to a place right now, it would be neither Israel nor Poland nor Belarus.
Kenya again? To dance with the lions?
- Without a doubt. Imagine that you are having breakfast in the middle of nowhere, in the heart of Africa. Regardless if you love animals or not - can you imagine the feeling of seeing the king of the jungle a couple of yards away? It was nothing but magical.
Quick questions
Favourite movie?
Slumdog Millionaire
Favourite book?
Principles, by Ray Dalio.
A movie or a book?
A movie.
A movie or a series?
A series.
Which one?
How I met your mother.
Coffee or tea?
Coffee.
Favourite team in sports?
Manchester United.
Messi or Ronaldo?
Messi.
Pizza or pasta?
Pasta.
The forest or the beach?
The beach.
Al Pacino or Robert de Niro?
De Niro.
Look into the future or change the past?
Look into the future. You learn from your mistakes and change it for the future.
If you could meet a historical person, who would it be?
Nelson Mandela.