"Kind of a renaissance man like Da Vinci"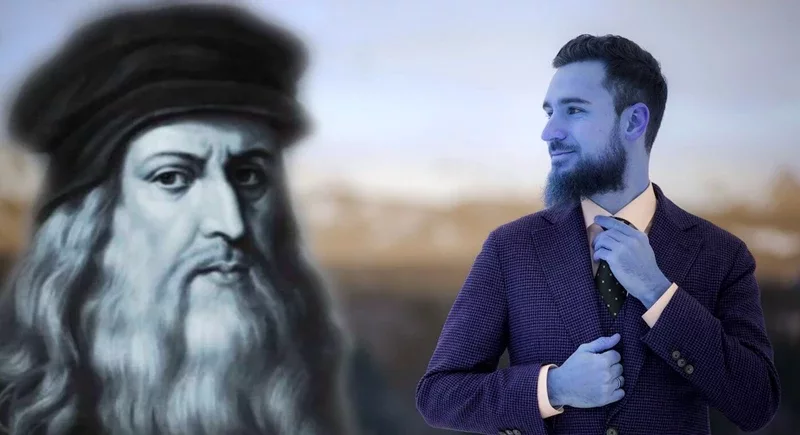 What do you get if you combine three cats, oriental dishes, a longing for Taiwan with a pragmatic business-driven mind and an interest in fantasy books? You get Michaɫ Górski from Poland. He is responsible for the day-to-day tech-operations, pretty much inspired by Leonardo da Vinci with a modern spirit.

There is a combination that Michaɫ Górski is a big fan of, something that keeps him stimulated at Northmill.
- The best part of working in fintech is that we combine the power of finance and technology, in order to offer the best products and disrupt the banking industry. We do that by being cloud-based, passionate about every customer and business-driven.
Is that a way of describing Northmill?
- Absolutely. Working here means dealing with plenty of ideas simultaneously. You always need to think about proper priorities and the most efficient way to improve financial life. To be totally honest, this is - in a way - not the company for everybody. You will have to be like a bit of an entrepreneur yourself I believe to like the culture and atmosphere.
What do you mean?
- We require initiatives, engagement and a business mindset from everyone, as we are fully working in product teams. Your product is your responsibility. Meanwhile, you need to adapt to constant changes and improvements. At the same time, with this responsibility comes a certain power. You can change a lot. Your voice really matters.
"I'm trying to live my life in the most pragmatic way possible."
Michaɫ Górski lives in Gliwice and is responsible for the day-to-day tech-operations in Poland. He is leading the Architecture team and is a part of the Product Engineering Leadership team. He is also a family man.
- I'm a husband and a father that loves to travel and read fantasy books. My family also contains three cats. I'm a tea lover, amateur football player and I love to cook, especially oriental dishes.
Would you say that you are a simple man?
- I'm trying to live my life in the most pragmatic way possible and apply it to my team at Northmill. I like to think of myself as kind of a renaissance man like Leonardo Da Vinci, doing everything that is needed.
Such as…?
- In my everyday business at Northmill - everything from technology management and architecture plans for our systems to hands-on development, AWS management, security, recruitment and workshops about improvements of the products and organizations.
"We do new things, touch new topics.."
As mentioned earlier, Michaɫ has certain elements that keep him stimulating working here.
- In Northmill there is no stagnation. We do new things, touch new topics. We are constantly improving and striving for perfection. We are also very business-driven, which means that I always try to find the best way of solving business problems. Additionally, we are creating banking services fully in the public cloud which I am a huge fan of. All in all, being responsible for some of the most important and strategic decisions within tech and product motivates me.
And you focus a lot on product development?
- Yes. Due to the fact we are operating in AWS cloud, using cutting-edge technology such as serverless, we can fully focus on product development instead of reinventing the wheel.
The combination of finance and technology is something that Michaɫ Górski is a big fan of. Another thing is traveling. A certain destination comes to mind.
- If I could travel to one place without bringing a camera? Definitely Taiwan. Pure nature, jungles, mountains, sea, tea plantations, amazing food and cutting-edge technology. It has everything I love. I don't need a camera. I just need to feel the atmosphere of the place.
- - -
Quick questions
Favourite movie?
I don't have one in particular, but let's go with a classic: X-Files series.

Favourite book?
It's a very tough question, but I would say the Firebird Series by Claudia Gray.

A movie or a book?
Definitely book.

Coffee or tea?
I'm a tea lover, especially Taiwanese. But I also like good coffee and experimenting with infusions!

The forest or the beach?
I would say forest, but I like both (not laying on the beach, but sightseeing).

Pizza or pasta?
Hmm, I would say both. I love Italian food.

Lionel Messi or Cristiano Ronaldo?
This is an easy one, Ronaldo obviously.

Look into the future or change the past?
For me, the past is something to remember, learn and use to improve the future. You should keep the best memories because they are your treasure, but you can't live in the past. It has already happened. You can use your memories and experiences to make your future brighter and be the best version of yourself.

Al Pacino or Robert De Niro?
I'm really not into celebrities.

Favourite team in sports?
I have a black and white heart. Juventus is my true love.

- - - 

Would you like to work with Michaɫ? Take a look at our job openings here: https://careers.northmill.com/jobs