Sales Representative - Northmill Flo
Vi suddar bort gränserna mellan in-store och online. På riktigt alltså. Vill du vara med?

Northmill Flo
Igår fanns online och in-store. Det fanns bindningstid, konstiga avgifter och dålig support. Idag har gränserna suddats ut, bindningstiderna försvunnit och den trötta supporten är ett minne blott. Kvar är kunder som kan handla som de vill och var de vill – utan krångel. Med Northmill Flo får handlarna verktygen att göra det möjligt. 
Northmill grundades i Sverige och är ett tech-bolag med hjärtat i tekniken och en övertygelse om att det personliga mötet spelar roll. Oavsett om det sker online eller fysiskt. Idag är vi cirka 160 medarbetare i fyra länder. Vårt löfte har sedan dag ett varit att förbättra människors privatekonomi. Med Northmill Flo adderar vi handlare till det löftet. Det är handlares vardag och faktiska problem vi vill hjälpa till att lösa och förbättra.
Om rollen
I rollen som Sales Representative ansvar du för säljbudget och resultat, samt ansvarar för goda och långsiktiga kundrelationer. Du arbetar med försäljning av Northmill Flo's olika betalsystem för till butik och restaurang i Sverige och Norge där du driver hela försäljningscykeln från uppsökande kontakt till demo, offert och avtalssignering. Majoriteten av försäljningen sker via distans men resor kan förekomma.
Det här är jobbet för dig som är social, tävlingsinriktad, lösningsorienterad och vill jobba tillsammans med ett härligt gäng, centralt i Stockholm i ett bolag med kraftig tillväxt. Vår starka tillväxt gör även att det finns rum att växa i bolaget. Du styr ditt eget schema och får möjlighet till god kompensation vid bra försäljningsresultat.
Om dig
För att lyckas i den här rollen tror vi att du är driven, ambitiös och orädd med starkt resultatfokus. Vi ser gärna att du har jobbat med B2B försäljning innan, men det är inget krav. Vi tror även att du tidigare har jobbat i butik och/eller restaurang.
Du kommunicerar på Svenska och Engelska obehindrat i tal och skrift.
Vi går igenom ansökningar och intervjuer hålls kontinuerligt, så vi uppmuntrar dig att ansöka så snart som möjligt.

Department

Sales

Locations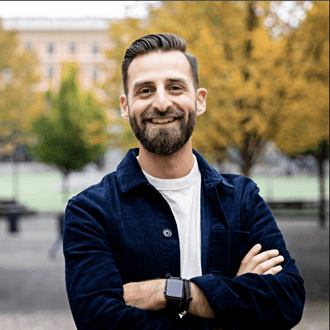 Contact
Sargon Kurt
Co-founder & CPTO – Product Engineering
Our ability to create
Our ability to create and nurture a diverse and healthy culture and environment for every Northmillian is a core part of our success, but it is also something that cannot be taken for granted. It requires constant love and attention and we need to invest in it every day.
We really are in a constant state of innovation and change, which means that it can be tough to always keep up with all parts of the business at all times. But I can promise you that we will always work relentlessly to improve and maintain a strong focus on diversity and inclusion, internally as well as externally, because our business depends on it.
About Northmill
Northmill is a tech company with a banking license aiming to improve financial life, offer merchants smart solutions and erase the borders between in-store and online.
Northmill creates a more personal and relevant experience for people and companies, helping more than 2,500 merchants and 600,000 end users.
Founded in 2006

Revenue 500 MSEK

FTE 160

Saved for users 31 MSEK
Trustpilot 4.8 of 5
Cloud 100 %
End users 600 000
🇸🇪 🇳🇴 🇩🇰 🇫🇮 🇵🇱
Sales Representative - Northmill Flo
Vi suddar bort gränserna mellan in-store och online. På riktigt alltså. Vill du vara med?
Loading application form
Already working at Northmill?
Let's recruit together and find your next colleague.