B2B Operation & Sales
·
Stockholm
Partner Account Manager
Northmill söker nu en Partner Account Manager som vill vara med på vår tillväxtresa
Tillsammans vill vi på Northmill skapa en annan typ av bank- och shoppingupplevelse. Vi grundades 2006 och har huvudkontor i Stockholm. Tar du chansen att bli en del av oss och vår resa?
Northmill söker nu en Partner Account Manager som vill vara med på vår tillväxtresa. Vår idealiska Partner Account Manager har djup kunskap och erfarenhet av försäljningsprocesser, är relationsskapande och har förmågan att slutföra affärer. Vi söker en självgående person med stark förhandlingsförmåga och som är mål- och resultat orienterad.

I den här rollen kommer du att driva försäljning inom vår Small to Medium Business-segment och du rapporterar till vår Head of Sales. Vi är engagerade i att kontinuerlig förbättras. Vi letar ständigt efter nya och innovativa sätt att förbättra kvaliteten, bygga kundanpassade lösningar och öka kundnöjdheten. Vi skulle vilja välkomna en organiserad, innovativ och driven kollega till vårt team i Stockholm, Sverige.

Dina dagliga ansvarsområden inkluderar: Att driva, utveckla och utöka vår partnerportfölj med nya partners och vårda vår befintliga partnerportfölj för att säkerställa vår tillväxt. Du adresserar, undersöker, löser, svarar och följer upp partnerförfrågningar. Du kommer att arbeta nära olika team och andra affärsenheter internt för att uppnå företags gemensamma säljmål. Säkerställa helhetsleveransen av affärsinitiativ och öka partners övergripande nöjdhet som i sin tur leder till fler affärer.

Tecken på framgång: Du är självmotiverad och självstyrd, är duktig på relationsskapande, har utmärkta muntliga och skriftliga kommunikationsförmågor, starka förhandlingsfärdigheter och framför allt du sporras av att ständigt vilja överträffa dina mål.


Fun Facts
Ta ett gympass två minuter bort eller en joggingrunda i stan
Event - årlig konferens utomlands samt härliga "Northchill" afterworks under året
Massage - massör kommer till kontoret för ett förmånligt pris
Årliga hälsoaktiviteter såsom arrangerade sats klasser, innebandy och olika löparlopp
Frukost och frukt varje dag och helig fika på fredagar
Regelbundna AW:s på fredagar och firade framgångar på kontoret
Stockholms snyggaste kontor 2020 med härliga ytor och vyer

Om Northmill
En svensk bank med hjärtat i tekniken. 160 medarbetare i fyra länder. 2 500 handlare. 600 000 slutkunder. Målet? Att förbättra människors privatekonomi genom att vara digitala men personliga.

Ansök idag och bli en del av Northmill!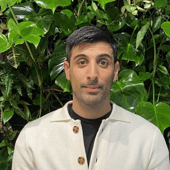 Contact
Nima
Head of Sales B2B – B2B Operation & Sales
Meet our people ✨
At Northmill, you will get a bunch of friendly, driven and nerdy colleagues. Representing 30 different nationalities, the set of different skills and experiences our employees possess is the key to success across all areas of business.
About Northmill
Northmill is a tech company with a banking license aiming to improve financial life, offer merchants smart solutions and erase the borders between in-store and online.
Northmill creates a more personal and relevant experience for people and companies, helping more than 2,500 merchants and 600,000 end users.

Saved for users 31 MSEK
Trustpilot 4.8 of 5
Cloud 100 %
End users 600 000

B2B Operation & Sales
·
Stockholm
Partner Account Manager
Northmill söker nu en Partner Account Manager som vill vara med på vår tillväxtresa
Loading application form
Already working at Northmill?
Let's recruit together and find your next colleague.